Life Science Software Solutions
You bring the idea and vision, will take care of the rest.
Unique Industry Expertise
We know clinic operations from a platform developer perspective. Having built systems from the ground up for companies in the healthcare, diagnostics and pharmaceutical industries in the US, EU & China, has given us valuable market insight and expertise. With this expertise, Cape Ann delivers robust technology solutions for global life sciences companies across the entire product lifecycle with a reduced development risk and a lower overall cost structure.
Cape Ann's strong software development team is backed by top PhDs in the space of Bioinformatics and Genomics who can help deliver innovative strategies while reducing time-to-market, accelerating research and drug discovery, and optimizing commercial operations to drive top-line growth.
Cape Ann can rapidly develop an entire platform to support the typical research or diagnostic lab infrastructure that simplifies, automates and accelerates the process within a biotech company. These modular systems can include; direct-to-consumer kit order, registration and fulfillment, lab workflows, sample tracking, customer portal, physician portals, clinical interpretation platform, consulting services, and business analytics – all in a low-cost, out-of-the-box, cloud-based platform that can be implemented in a fraction of the time of other solutions and tailored to your specific needs.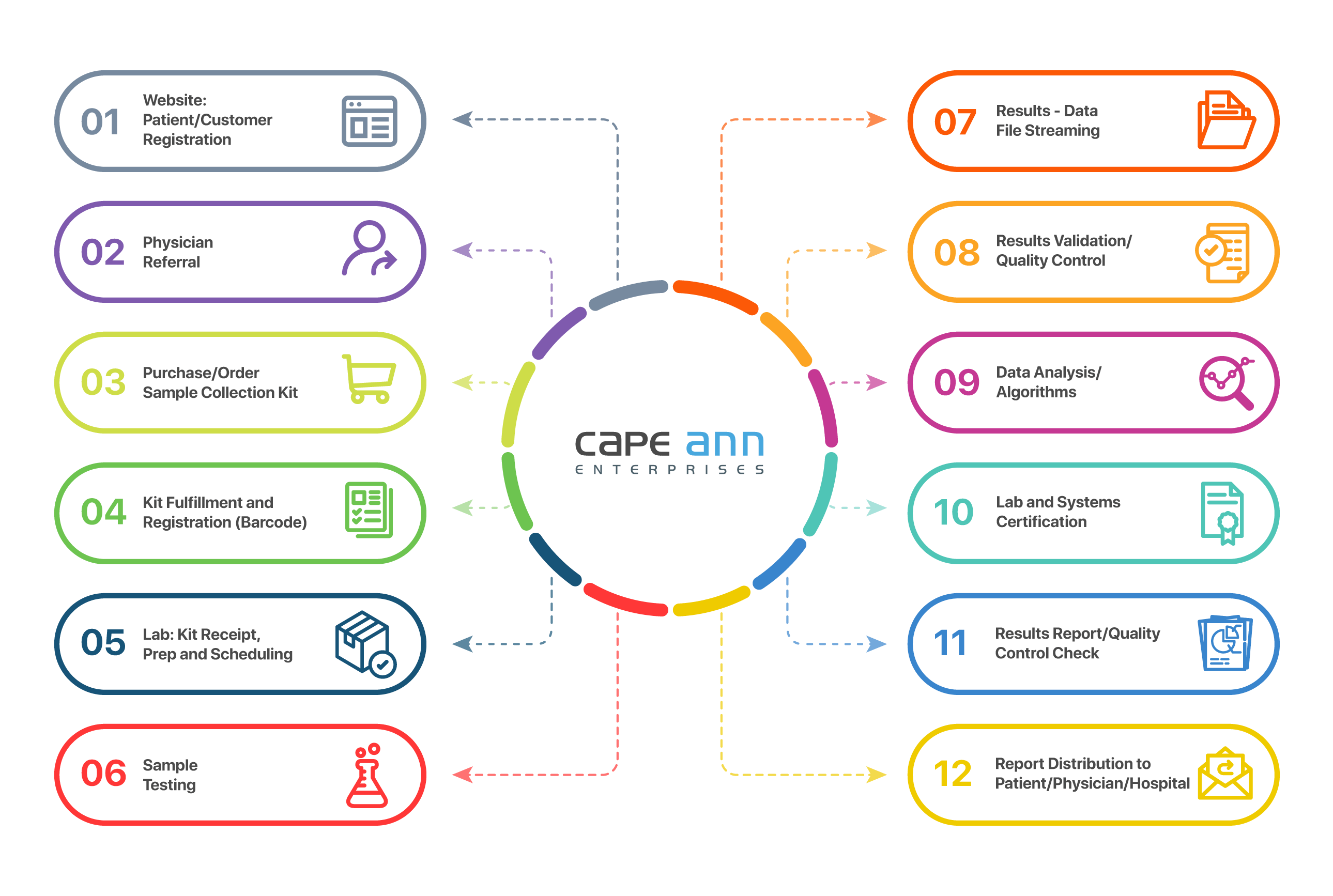 With a deep understanding of life sciences and clinical services, Cape Ann can help build a solution that will streamline your business and deliver on your product vision. We can provide a complete team to ensure your product goals are met. During development you will be well-informed with tight bi-directional communication channels. Post development, Cape Ann can help run operations including bioinformatics pipelines while providing ongoing and support and maintenance for your systems.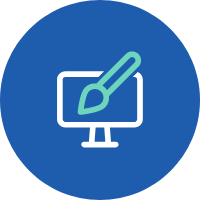 Using a Force Multiplier approach, Cape Ann leverages the expertise of top PHDs to craft solutions that are then implemented by experienced life science software developers.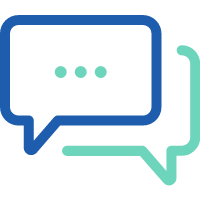 Consulting
Cape Ann has local PhD professionals that can provide a range of consulting services to help you optimize your software architecture and operations through our extensive experience in data analysis, sequencing, bloodwork, biobank data, AI for drug discovery and AI for genomics.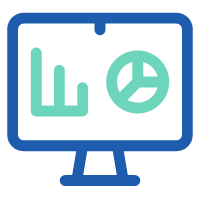 Data Analysis
Cape Ann's PhDs can help design processes to capture, store and provide deep analysis on sequenced data. With our AI and machine learning expertise, we can help you extract insight from that data. This includes targeted mutation or targeted analysis or discovery of underlying pathogens.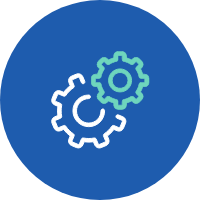 Cape Ann's Development Expertise is unique among non–US Companies. Our knowledge of the tools, the frameworks, and the technologies result in hardened, secure platforms that commercialize the science at scale.
Software Architecture & Design
Our seasoned architects will analyze your requirements and design a solution architecture that will implement the latest technologies. These designed-for-maintenance modular approaches help our clients stay competitive and meet the demands of the sophisticated users while remaining aligned with your business goals.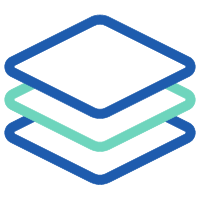 Platform Development
We will be there through your entire journey through careful planning and effective execution of an end-to-end solution tailored to your needs. These modules include end user kit ordering, fulfillment and registration to tracking, performing analysis on biological data, up to results/report distribution to institutions or end customers.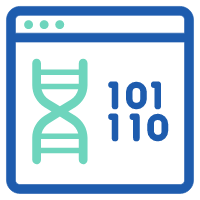 Bioinformatics
We provide a wide range of PhD level bioinformatics services in the field of genomics such as comparative genome analysis, genome annotation, genome mapping, microbiome analysis, exome analysis, variant annotation and custom scripting and special projects to meet your specific business needs. Veritas Genetics recognized by MIT Technology Review as one of the 50 Smartest Companies and CNBC as a top 50 Disruptor, is a Life Science company that identifies a majority of an individual's DNA through whole-genome sequencing. This information is used to provide insight on inherited disease risks, carrier status, drug sensitivities, traits, and ancestry so individuals may understand their genetics and make more informed health and lifestyle decisions, with the involvement of their physician and access to skilled genetic counselors.
Veritas offers genetic testing and interpretation to consumers and a dedicated portal for physicians to order, track, and review reports for all patients; and researchers a comprehensive on-the-cloud data ecosystem to complement and enhance research.
While the whole genome sequencing is performed on Illumina® sequencers, much of Veritas's secure, complex platform that underpins the company's entire business has been developed by Cape Ann from the beginning. Cape Ann remains Veritas' primary developer to build and maintain these systems. Olawell is a startup life sciences company that analyzes gut microbiome using proprietary algorithms to identify specific foods that may lead to food sensitivities and allergies. Olawell's custom reports can make food choice recommendations to improve microbiome balance and overall well-being.
Cape Ann designed, architected, developed, and operates Olawell's systems from the front end website and customer account management, to sample kit procurement and fulfillment, to the integration with lab processing data, algorithm processing, and custom report generation. Cape Ann remains Olawell's developer partner. Samplify Bio designed and produces a proprietary liquid-less saliva collection device that yields twice the DNA with a less than 1% failure rate. Cape Ann built the Application Program Interface (API) and tools that allow seamless data integration between Samplify's customers and Laboratories. Throughout New England, ConvenientMD offers a high-quality, convenient, and affordable option for treating injuries and illnesses. ConvenientMD provides fast, professional and affordable minor emergency and medical services to satisfy patients' demands for convenient, compassionate treatment in an urgent care setting.
For ConvenientMD, Cape Ann developed a HIPAA and GDPR compliant software solution that allowed patients to quickly, easily and securely schedule their appointments for Covid-19 testing and get rapid results. The solution included a basic operations panel for the ConvenientMD staff to be able to track the appointments, samples, the status of the sample analysis and results. The solution included an integration with a 3rd party CLIA lab that performed the sample analysis.

CarePoint Solutions designs, develops and commercializes products that improve the accuracy and reliability of diagnostic testing. The company's flagship product, Pro-QCP represents a first-of-its-kind software solution that helps ensure regulatory compliance and implements a continuous quality improvement process for in vitro diagnostic testing.
For CarePoint Solutions, Cape Ann has developed a platform to deliver ProQCP assessments, pro-active risk assessments, and quality control documentation to support CLIA compliance and reporting requirements.